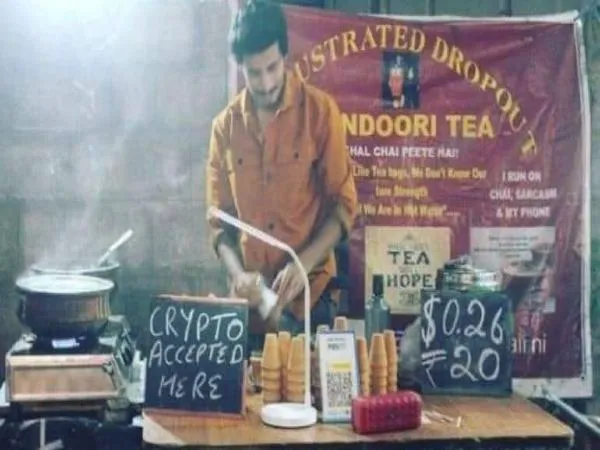 The idea of ​​starting a business can come at any time and due to any special event. Startup college has been started by all the dropout students of the world.
Today we tell you about one such startup. College dropout A student has started a tea stall named 'The Frustrated Drop Out' after losing money in bitcoins.
The funny thing about this startup is that you can pay for tea here in bitcoin or other cryptocurrencies.
This business, which started after losing money in bitcoin, has become a special hangout place for people who use cryptocurrency.
Shubham is a dropout of Indira Gandhi University
An alumnus of Indira Gandhi University named Shubham Saini has started this business. In the fall of more than 60 percent in the crypto market in 2020, many people including Saini had to face heavy losses.
Saini started trading in crypto with 1.5 lakh rupees, and in no time he got a 1000 percent jump in the market and became a full-time trader.
Seeing the best profits he got in crypto, Shubham stopped asking for money from home. Then he also left the college in the last semester
All money lost in 2020
In 2020, there was a huge fall in the crypto market, in which Saini lost 90 percent of his money.
In an interview given to the Indian Express, he told that I came from Rs 30 lakh to Rs 1 lakh. He said that I could not believe that so much had changed in my life in just one night.
Inspired by sinking money into cryptocurrencies
This incident of drowning money in cryptocurrencies inspired 22-year-old Shubham to do something else. He started a small tea shop called 'The Frustrated Drop Out'.
He started taking payments in crypto to try something new and he says that he is surprised that people are showing a lot of interest in paying in crypto.