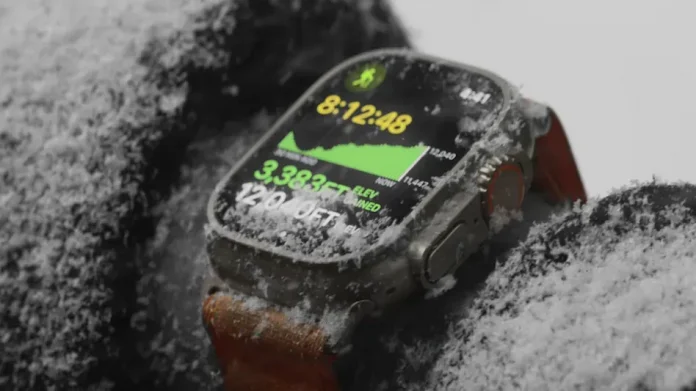 Apple today announced the Apple Watch Ultra, which brings a bold new design and a wide array of features built for endurance, exploration, and adventure.
The Apple Watch Ultra features a 49mm titanium case and flat sapphire front crystal that flaunts the largest and brightest Apple Watch display ever.
A customizable action button provides quick access to a wide range of useful features. The Apple Watch Ultra has the best battery life of any Apple Watch, reaching 36 hours during normal use.
1 Additionally, a new low-power setting, ideal for multi-day experiences, can extend battery life up to 60 hours. 2 Wayfinder watch face is designed specifically for the larger Apple Watch Ultra display and includes a compass built into the dial, with room for up to eight complications.
Apple Watch Ultra also brings three new bands – the Trail Loop, Alpine Loop, and Ocean Band – that feature unique design features that provide a secure and comfortable fit for every adventure.
After more than a year of rumors, Apple has finally announced the Apple Watch Ultra — a rugged, premium smartwatch that now sits atop Apple's smartwatch lineup.
The watch has a new design with a larger display as well as a redesigned one for exploration and outdoor activities.
There's a new button guard on the side, featuring a 49mm titanium case, a redesigned digital crown, and a new action button. Action buttons can be customized for a variety of purposes, including workouts, compass waypoints, and a new Backtrack feature.
The display comes with sapphire crystal along with 2,000 nits brightness. The buttons and crown are also designed to work with gloves, which is a major concern for outdoor athletes. There are three built-in microphones to improve sound quality as well as reduce ambient noise such as wind.
The Ultra Watch has the cellular capability and should last up to 36 hours on a single charge. It also has an extended battery life of 60 hours when using the new low-power setting. That mode still allows you to measure heart rate and GPS.
Apple says the Ultra has enough battery life for most users to complete a long-course triathlon, which includes a 2.4-mile swim, a 112-mile bike ride, and a full 26.2-mile marathon.
Ultra has also improved multiband GPS, including the new L5 frequency. This is something you only see on fitness watches like Garmins and Coros these days.
It also has a trackback feature, which helps you retrace your steps in case you accidentally go off the grid. There's a new Compass app in watchOS 9, which adds Compass Waypoints so you can mark points of interest on the map.
Meanwhile, for triathletes, the Action button also lets you transition from one stage of the race to the next (ie, switch from swimming to running). It will also auto-detect when athletes hit the track later this year. And it has an 86-decibel siren to help others find you.
For water sports, it can handle kiteboarding and has WR 100 water resistance. It automatically launches a new depth app when you're underwater to show the time, depth, and temperature.
It is also certified to EN 13319 for scuba diving depths up to 40 m. It also has a new Oceanic Plus app for recreational and scuba divers.
There are also three new bands: Alpine, Trail, and Ocean. They cater to a wide variety of environments and are meant to tolerate "long runs, harsh falls, and rippling currents".
The Trail Loop is designed for runners and is made of lightweight fabric with a tab to help adjust the fit with ease.
The Alpine Loop consists of two layers made of high-strength yarn to provide adjustment and protection via a G-hook fastener. Meanwhile, the Ocean Band is designed for water sports as it stretches and utilizes tubular geometry for a better fit.
The Apple Watch Ultra marks a new chapter in Apple's smartwatch journey. Until now, Apple Watches have been the more general-use devices with great connectivity, smart features, and advanced health alerts. But the Ultra is clearly a fitness-first device to compete with the likes of Garmin and Polar.
It also comes at a time when the Android landscape is changing – Google is launching its first smartwatch, Samsung just came out with the Pro Watch, and some Wear OS 2 watches are expected to be upgraded to OS 3. are determined for.
When you consider it, it looks like Apple is also going to innovate in the wearable space now.
The Apple Watch Ultra will be available starting September 23 for $799.