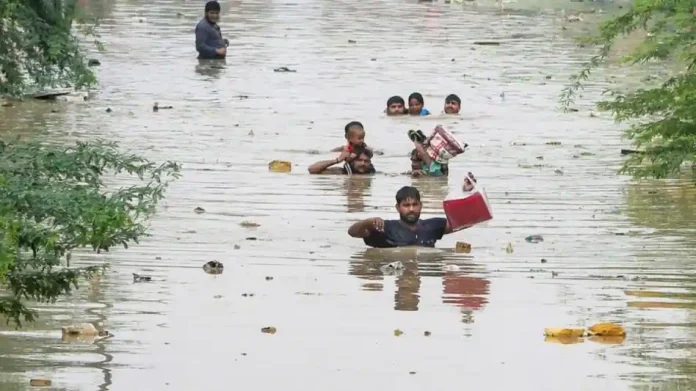 Heavy Rain in Delhi | A major accident took place at Mukundpur Chowk at 3:00 pm on Friday afternoon due to water logging due to rain in Delhi. Here 3 children who went to bathe in rainwater died due to drowning. The police are investigating the matter According to the information, rain water was filled in a field of Mukundpur. In that, these children had gone to bathe. A constable also jumped into the water to save the drowning children, but by then the children had died.
STO Ram Gopal told that when our patrolling unit returned, people told that three children were drowning in the ditch at the metro construction site. They were pulled out and taken to BJRM Hospital, where doctors declared all three brought dead. The three children have been identified as 13-year-old Piyush, 10-year-old Nikhil, and 13-year-old Ashish. All were residents of H-Block of Jahangir Puri.
Advice to stay away from river water
Delhi Government informed that all concerned District Magistrates, I&FC Department, Delhi Disaster Management, Delhi Police, and other departments are on alert mode to deal with the flood. There is constant coordination. 15 teams of NDRF have been deployed in Delhi. So far 4346 people and 179 animals have been rescued by NDRF.
People living in low-lying areas have been evacuated safely. These areas have been completely evacuated. Announcements are being made continuously to make people aware of the flood situation. Policemen and CDVs are being deployed at every such place and counseling is being given. People have been instructed to stay away from the river water.
Floodwater entered these areas
Yamuna Ka Pani Bela Road, Rajkishore Road, Civil Lines, Red Fort (Outer Ring Road), Yamuna Bazar, ISBT Kashmiri Gate, Shankaracharya Road, Majnu Ka Tila, Khadda Colony, Batla House, Vishwakarma Colony, Shiv Vihar, Khajuri Colony, Sonia Vihar, Kingsway Camp, GTB Nagar, Near Rajghat, Wazirabad, Bhairav Road and Math Bazar were waterlogged.
Work-from-home tips
All schools and colleges in Delhi have been closed till 16 July. All government offices related to non-essential services will remain closed till Sunday. Employees will work from home. Private offices have been advised to work from home. Commercial establishments around Kashmere Gate have been asked to remain closed till Sunday. Delhi Metro was also affected.
DMRC said that as a precautionary measure, metro trains are crossing the four Yamuna bridges with a restricted speed of 30 mph. Non-essential services have been stopped in Delhi. The entry of heavy goods vehicles has been banned. The entry of heavy goods vehicles, except those carrying essential goods, into the city from four borders including the Indus has been banned.