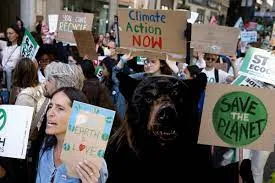 Cocaine Bears : Elizabeth Banks' latest film, "Cocaine Bear," tells the true story of a bear who overdosed on cocaine in the 1980s and subsequently died. The film, which premiered at the Sundance Film Festival, is a dark comedy that uses the bizarre incident as a starting point to explore themes of climate change, greed, and the war on drugs.
The plot follows a group of characters, including a drug dealer, a DEA agent, and a park ranger, who are linked by the fate of bears. Banks injects the film with his trademark humor and irreverence while addressing serious issues. The film's message about the interconnectedness of human behavior and the environment is conveyed through the accidental ingestion of a bear, which was ultimately the result of human greed and carelessness.
"Cocaine Bears" is not a traditional environmental film, but its unique approach to the subject matter sets it apart from other climate change-themed films. Banks has stated that she wanted to make a film that was entertaining and thought-provoking, and the result is a film that is both funny and insightful.
Overall, "Cocaine Bears" is a compelling and entertaining film that manages to address important issues without being heavy-handed. Banks has once again proved that she is a talented director with a unique vision, and her latest film is sure to be a hit with audiences.