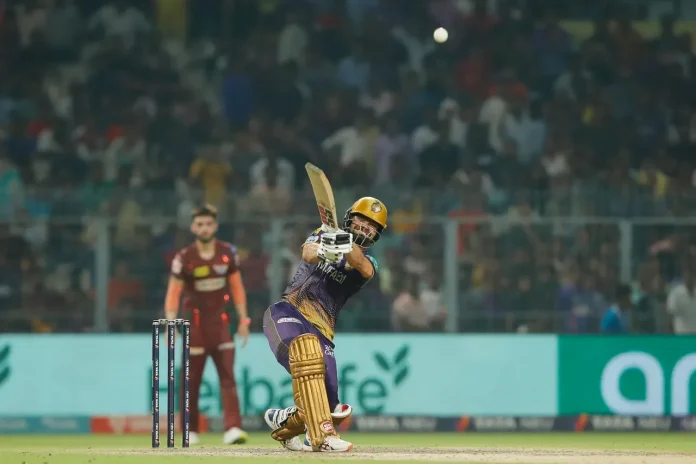 IPL 2023 | The team of Kolkata Knight Riders is out of the playoff race. The performance of the team was mixed this year. He won six out of 14 matches and the team had to face defeat in eight. On Saturday, Lucknow Super Giants beat Kolkata by one run.
However, there came a time when Rinku Singh spoiled the condition of Lucknow. In the last two overs, Kolkata needed 41 runs to win. In the 19th over, Rinku hit three fours and a six off Naveen-ul-Haq to collect 20 runs.
Rinku played some amazing innings this year
In the last over, Kolkata needed 21 runs to win. Vaibhav Arora took a single off the first ball. After this, no runs came on the next two balls. Kolkata needed three sixes in the last three balls to win. Rinku hit a six on the fourth ball. Then hit a four on the fifth ball and finished the match by hitting a six on the last ball.
In this way, KKR's team ended this season's campaign with a defeat. However, they have definitely found a new star and a new match finisher in Rinku Singh. Rinku has impressed not only India but also the cricket experts of the country and abroad with his match-finishing skills this year.
Rinku is also being called the new 'Mahendra Singh Dhoni' of Indian cricket for his match-finishing ability. 25-year-old Rinku was bought by KKR for Rs 55 lakh, but he is playing better than many Crorepati players.
Rinku's performance in IPL this season
Rinku, who sat on the bench for most of the matches till the last few seasons, was given a chance by the new captain Nitish Rana this year and he grabbed the opportunity with both hands. Rinku on his own brought Kolkata to the threshold of victory in many matches, while also winning in many matches. He scored 474 runs in 14 matches this season at an average of 59.25 and a strike rate of 149.52. This includes four fifties. During this, he included 31 fours and 29 sixes.
Rinku's performance while chasing runs
Rinku has played seven innings this season while chasing runs. During this, he has scored 305 runs at an average of 152.50 and a strike rate of 174.28. These include four half-centuries. His highest score has been 67 not out. During this, he has hit 20 fours and 22 sixes.
No one has had a better average than Rinku while chasing runs this season. Not only this, after the return of Shreyas next season, the position of the team can be further strengthened. In front of Rinku, the shine of Andre Russell also faded, which did not work at all this season. In the form of Rinku, the team has also got Russell's replacement as the match finisher.
Rinku scored a lot of runs in domestic cricket as well.
Rinku has been playing IPL since 2018, but this is the first season when he has played all 14 matches. Since 2018, he is in the Kolkata team only. Rinku is not only known for his batting but also for his superb fielding. In 2018, Rinku played four matches and scored 29 runs.
Whereas in 2019, he got a chance to play five matches and scored 37 runs. In 2020, Rinku played only one match and scored 11 runs. Rinku did not get a chance to play any match in 2021, while in 2022 he scored 174 runs in seven matches at an average of 34.80 and a strike rate of 148.72.
Rinku has scored a lot of runs not only in IPL but also in domestic cricket. Their last few domestic seasons have been spectacular. Last season of Ranji Trophy, Rinku scored 442 runs in seven matches at an average of 73.67. During this, he scored a century and two half-centuries.
Rinku has scored 2875 runs in first-class cricket in 40 matches at an average of 59.89 and a strike rate of 70.88. These include seven centuries and 19 half-centuries. Apart from this, he has scored 1749 runs in 50 matches in List-A cricket at an average of 53 and a strike rate of 95.15. Including all types of T20 cricket, Rinku has scored 1768 runs in 89 matches at an average of 30.48 and a strike rate of 140.87.
Ravi Shastri demands Rinku be included in the Indian team
Many big cricketers including Sunil Gavaskar, Ravi Shastri, Irfan Pathan, and Suresh Raina have demanded Rinku's inclusion in India's T20 team. Gautam Gambhir, the mentor of Lucknow Super Giants, had called him an extraordinary player after Saturday's match.
In such a situation, it will not be surprising that Rinku will be seen playing in the next T20 series of the Indian team and become an important part of the mission 2024 T20 World Cup. Apart from this, Rinku can also bowl off-spin.
Rinku's batting specialty
The special thing about Rinku's batting is that he settles himself in the beginning, after that he plays shots fiercely. He is adept at shifting batting gears at any given moment, as well as can also comfortably rotate the batting and strike when required. His shots are clean and the ball falls straight across the boundary line.
This season, he hit five consecutive sixes in the 20th over against Gujarat Titans and proved his mettle to the world. After the match against Chennai Super Kings and Royal Challengers Bangalore, Rinku was also seen taking tips from veteran batsmen like Dhoni and Kohli. In such a situation, it will be a matter to be seen that when this new star of Team India will win the Indian team with his potential.