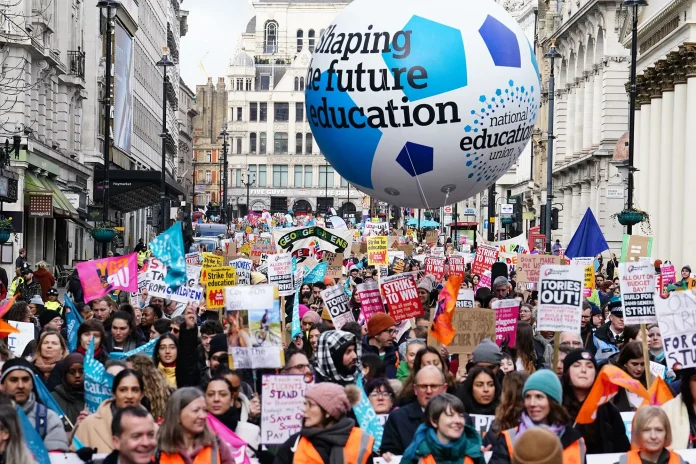 Strike in UK: New round of strikes in Britain, the crisis of economy is increasing workers discontent in Britain has reached a new high. The massive strike that took place there on Wednesday had not happened in the last several decades. Due to this strike, schools and universities across the country remained closed and trains did not run.
Work in government offices was also affected. Trade unions have claimed that normal life in Britain has come to a complete standstill. Lakhs of employees expressed their protest by taking to the streets.
The employees are demanding higher wages in view of the rising inflation. The demonstration in London was organized by the Trades Union Congress, consisting of 48 unions. These people are opposing the bill presented by the Rishi Sunak government.
Under which provision is going to be made to curtail the right to strike? There is a provision in this that it will be the responsibility of the workers to continue the fire brigade, ambulance, and rail services even during the strike.
The unions had recently rejected the government's proposal for a wage hike. The government had proposed a four to five percent salary hike from the current financial year. Unions say that the rate of inflation in the country continues to remain above 10 percent. That's why there should be at least a ten percent increase in their salary.
According to reports, the strike on Wednesday affected about 23,500 schools located in England and Wales. Many schools remained completely closed. On the appeal of the University and College Union, 70,000 workers went on strike. These employees will be on strike for 18 days.
This will affect the education of 25 lakh students. On the other hand, more than one lakh employees, members of the Public and Commercial Service Union, also went on strike on Wednesday. Apart from the wage hikes, their demands also include pension job security. According to media reports, around 30 percent of train services in the country were affected due to the strike.
According to analysts, the already troubled economy is getting into more trouble due to the strikes. According to the forecast issued by the International Monetary Fund about the world economy, Britain is among the major economies that are going to be in recession this year.
The IMF has said that energy inflation is expected to continue in the UK, with output falling and house prices rising. According to IMF Research Director Pierre-Olivier Gorincha, inflation in the UK will remain above eight percent this year. While its average in the world is estimated to be 6.6 percent.
Since the arrival of this IMF report, restlessness has increased in Britain. Teachers' union leader Niamh Sweeney told American TV channel CNN- "The average salary increase of five percent for teachers is not enough. She said that teachers are leaving the job due to the decline in real wages while recruiting new teachers is difficult. Has been.