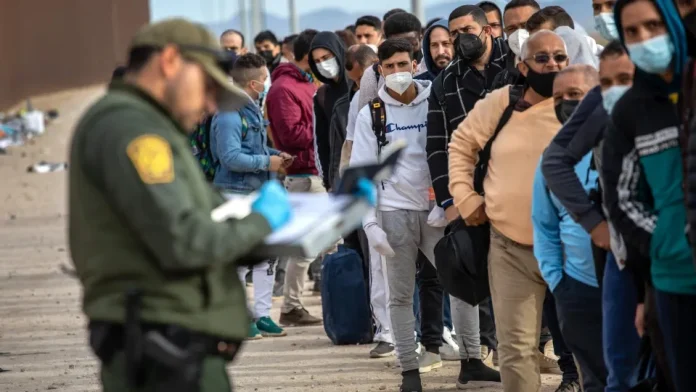 Washington DC. : The mayor of Washington DC has declared a 15-day public emergency on buses of migrants being sent into the city from Arizona and Texas.
According to The Guardian, Greg Abbott of Texas Gov. has sent at least 9,400 migrants to Washington since April.
Republican Abbott is sending migrants who illegally cross the southern border into Democrat-run states with so-called "sanctuary city" policies, including New York City and Chicago.
Washington DC's Democratic Mayor Muriel Bowser this week declared a public emergency on immigrants arriving by bus sent by Republican governors of Texas and Arizona.
Bowser, who issued an order to support arriving migrants by creating a new Office of Migrant Services, and would dedicate $10 million to fund the office, said the city would seek reimbursement from the federal government.
Bowser's office called the migrant buses a "political stunt," echoed by Democratic mayors of New York City and Chicago, as well as the White House.
Bowser said Washington is preparing to cross the border in the fall, as Texas and Arizona will send hundreds of additional buses to Washington.
"The crisis at the border is not easing, it is getting worse," she said, according to Reuters.
In August, Reuters reported that migrants arriving in Washington have struggled to secure housing and medical aid.
Tatiana Laborde, managing director of SAMU First Response, the organization that receives federal funding to aid arrivals, said that due to stagnant jobs and lack of knowledge of English, some migrants have become homeless.
Migrants were sent without prior warning
In Chicago, Mayor Lori Lightfoot is sending migrants to the suburbs without prior warning to the local mayor.
Gary Grasso, the mayor of Burr Ridge, Illinois, told WGN: "I'm neither concerned with the village administrator, nor was I told about it." "We want to know: Why Burr Ridge?"
"What the governor of Texas is doing is disgusting and needs to stop," said Illinois Gov. "It shouldn't be that the governor of Texas is taking these people and treating them like cattle, treating them like property, putting them on buses and sending them to where they want to go."
Abbott claims that his state's resources are scant, leading to a huge influx of migrants entering the state illegally, averaging 7,000–8,000 every day.